What lessons can we draw from the CSDA's Sihleng'imizi programme?
In this webinar Prof Leila Patel presented the long-term effects of the programme and discussed the lessons for strengthening and supporting families during and after the Covid-19 pandemic. Dr Sadiyya Haffejee looked at the impact on parents and children during lockdown and Tania Sani looked at parenting in small and crowded spaces during lockdown.
WEBINAR LINK
How well are children and caregivers faring? Findings from a psychosocial assessment of early grade learners during the Covid-19 pandemic
South African children are disadvantaged by multiple, intersecting social, health, education and economic factors. This is compounded by fragmented services and a lack of co-operation between the health, welfare and education sectors serving children and families. Integrated, multidisciplinary interventions enabled by intersectoral collaborations between these sectors may improve outcomes for children and families. To pilot such an intervention, the DST/NRF Chair in Welfare and Social Development at the CSDA, Prof Leila Patel established an intersectoral Community of Practice research project, bringing together experts and stakeholders to support child health and well-being.
In the first webinar on this exciting project, findings from the first wave of data gathered from 162 children were shared. We looked at how children are faring in terms of health, economic, family, mental health and education domains and how the CoP plans to support high risk children.
WEBINAR LINK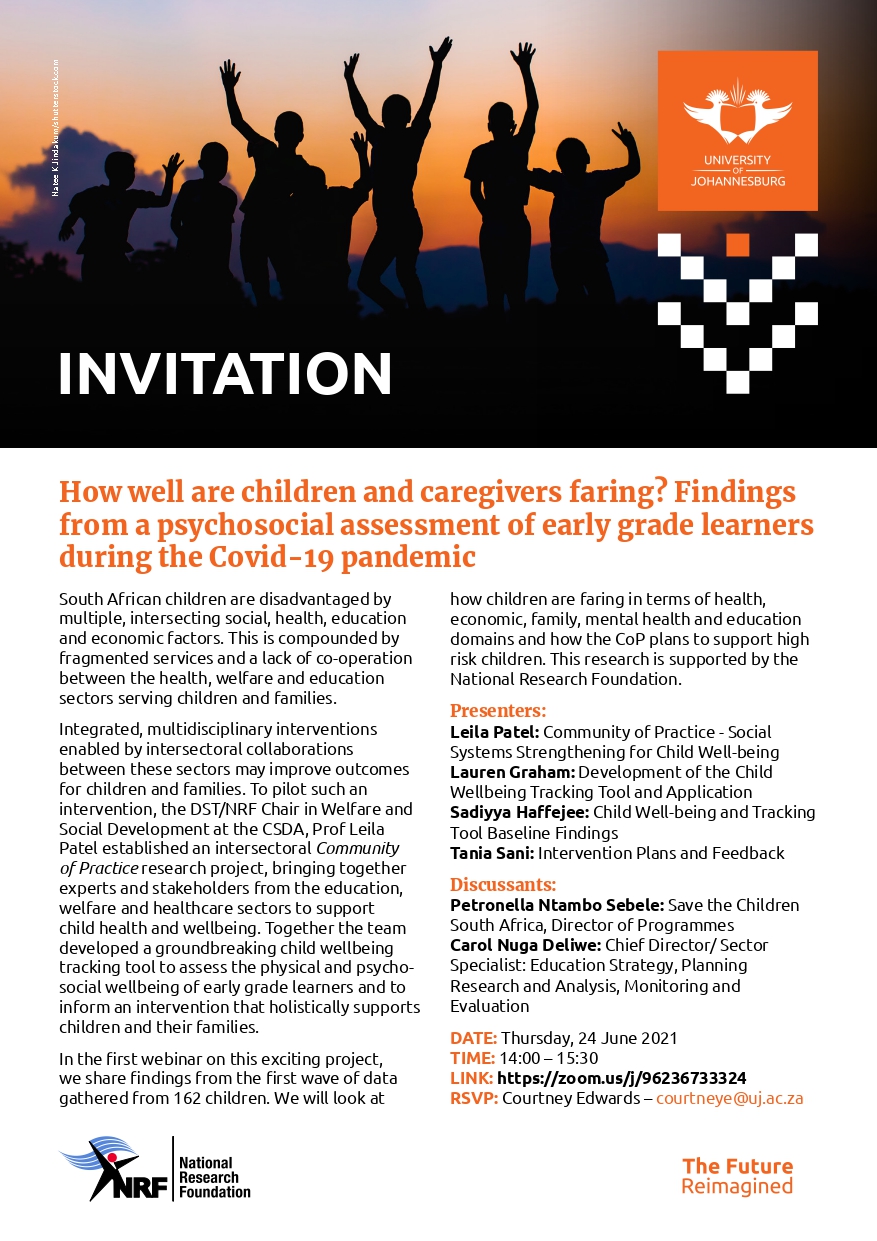 Numeracy, literacy and vocabulary assessment of early grades children in a social development program
In a collaborative research and development programme of three National Research Foundation (NRF) South African Research Chairs at the University of Johannesburg, the literacy and numeracy attainment of children from participating families were assessed.
The sample of early grades learners was drawn from five schools in the greater Johannesburg area. The standardised interview-based tests included a test to assess number concept development as well as a test to assess children's reading competence and a maths specific vocabulary. Three measures were used: The Early Grades Reading Assessment (EGRA), the MARKO_DA SA (the South African translated and versionalised test of German origin, and validated for use in South Africa), and the Meerkat Maths Language Test (MMLT).
The children were tested in their primary language of learning, which included Xitsonga, isiZulu, English, and Sesotho
WEBINAR LINK
Psychosocial Support Services at Schools
The Integrated School Health Programme (ISHP) is a collaboration between the Department of Education, Health and Social development and aims to provide a comprehensive package of services to school learners. The ISHP has the potential to positively impact child well-being if properly implemented and if key role players are adequately capacitated. Unfortunately, there is a lack of information on the ISHP at schools. As part of the Community of Practice for Social Systems Strengthening to Improve Child Well-being Outcomes study, we assessed teacher awareness and knowledge of the ISHP and other policies at five schools in Gauteng. We also explored knowledge of psychosocial interventions implemented at the schools by ISHP collaborating government departments. A total of 50 school staff members participated. In this webinar we shared findings from this assessment. We also shared findings of the psychometric assessments conducted with 30 at risk learners at the five participating schools.
WEBINAR LINK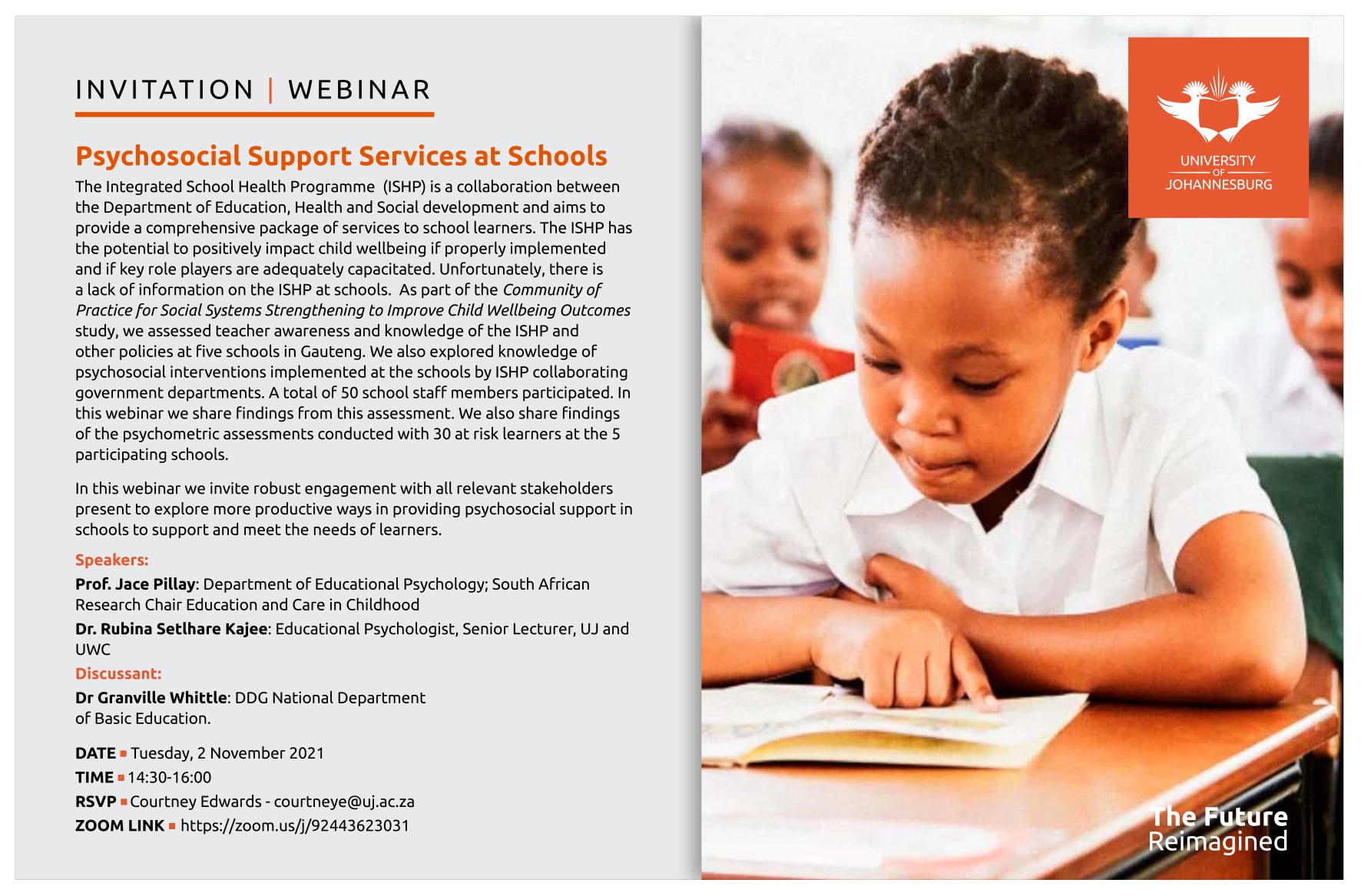 Context matters: Child growth within a constrained environment
As part of the Community of Practice for Social Systems Strengthening to Improve Child Well-being Outcomes (CoP), children's growth within a constrained environment has been monitored. In this webinar Prof Shane Norris, Prof Leila Patel, Dr Lukhanyo Nyati and Prof Lauren Graham present the results of this research under the title Context matters: Child growth within a constrained environment.
WEBINAR LINK
How Well Are Children Faring?
Findings from a longitudinal assessment of child well-being in theCOVID-19 pandemic in selected Johannesburg schools over threewaves from 2020 -2022
The Community of Practice (CoP) is an initiative aimed at improving children's well-being through social support systems. It uses a digital tool to assess child well-being across various domains, including psychosocial, education, nutrition, health, and material/economic well-being. The CoP's study reflects the impact of the COVID-19 pandemic on children's well-being and outcomes post-pandemic. In a webinar, the CoP team will present a comparative analysis of children's well-being over three years, offering insights into strengths and areas for improvement in social systems.
WEBINAR LINK